Rubrics help to evaluate students' courseworks, based on predefined criteria and scales. They help students understand what is expected of their assignments and why they have received a particular grade. There are three types of rubrics you can create: standard, custom, qualitative.
Create and Add Rubrics
When creating a Turnitin assignment from your Aula space, you'll first need to fill out the Assignment Info prompt. For help on the creation process of a Turnitin assignment, please head over to Turnitin: Create, Edit, and Share Assignments and Provide Feedback.
After clicking on Save from the initial pop-up, you'll be taken to the Turnitin Setup Screen.
Click on Optional Settings in the bottom left corner of this screen.
Under Optional Settings, you can then select Attach a Rubric. You can either attach an existing one or choose Launch Rubric Manager to create a new one.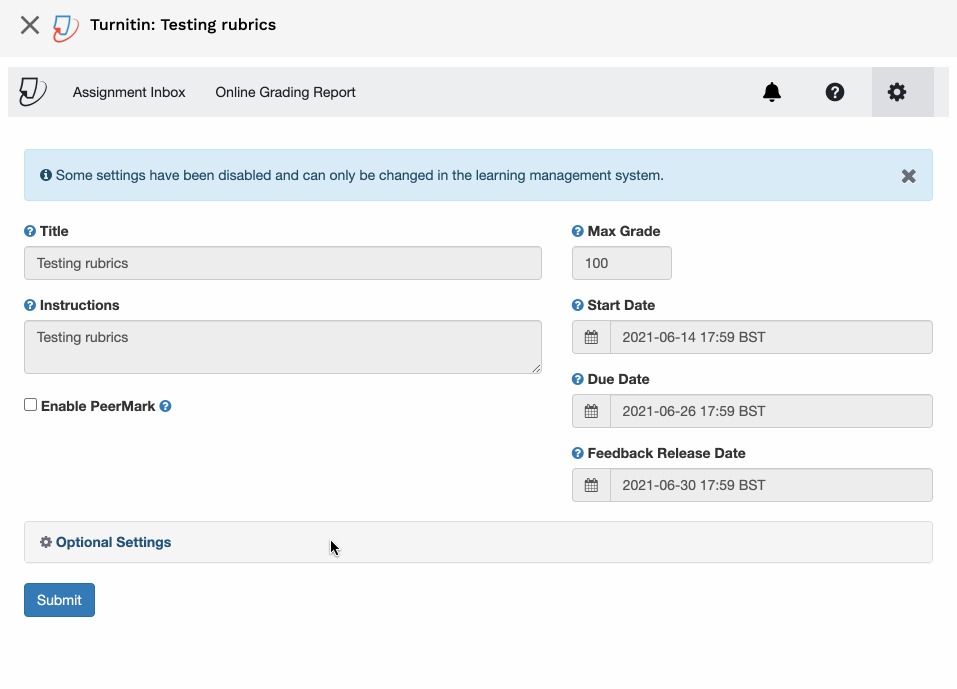 Grade Using Rubrics
Open the relevant Turnitin assignment.
Locate the submission you'd like to grade and click on the pencil symbol in the Grade column, next to the name of the assignment.
Click on the Rubric symbol in the Feedback Studio window to start grading.
Use a slider to apply a relevant mark in each criterion.
Click Apply to Grade when you're ready. *Please note that Aula Support is unable to manually change grades.
The rubric marking will be automatically applied to the total percentage grade visible at the top of the screen.
Note
If you are trying to import a rubric, use the download the template option. The template helps you input your criteria and maintain the format. It makes the process of importing Rubric easier to the space.

You will only be able to import a rubric with a .rbc format or an Excel file with certain information. Word files will not be imported.

You won't see the same rubrics on your drop down menu as your colleagues. However, you can access their rubrics, download them, and attach them to your own assignments.

Once you attach a rubric to an assignment and a student makes a submission, you cannot make further modifications to it. The only option here will be to duplicate the rubric, edit it, and attach it again.
The Turnitin panel provides you with creating a rubric and duplicating an existing rubric as an option with in the console.
For further help with setting up rubrics in Turnitin, check the Rubric scorecards section of Turnitin's help center.
An example of a rubric in Turnitin.
---
See Also