This article explains how you can create new pages and sections, add content, edit and reorder materials.
Add Pages and Sections
Note
A Page can be created as a standalone page visible directly in the Materials sidebar, or as one of the few pages nested inside a Section.
Head to Journey > Materials.
Click on the + icon at the top of the Materials section.
Add a name and content to the page.
Click on Save to confirm.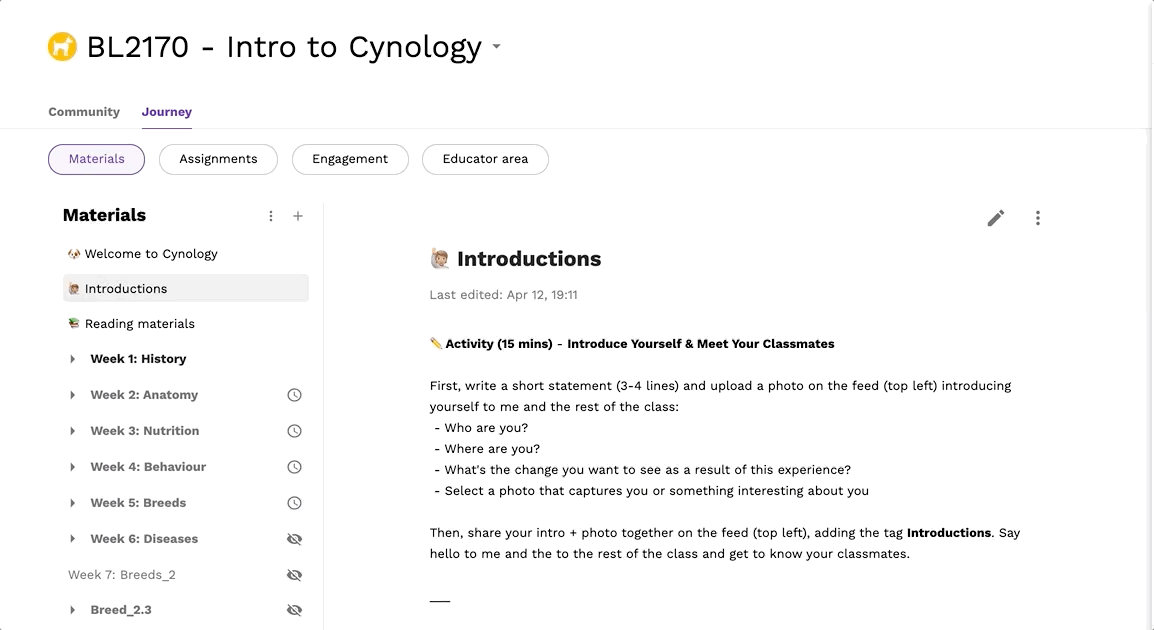 Click on the three dots icon next to the Materials heading.
Select Create section.
Type in the name of the section and click on Save.

To rename a section, click the three dots icon next to the section title and choose Rename.
Add pages to the section by either dragging and dropping created pages onto the section, or by clicking on New page within that section.
Add Content
In the editor, start by giving the page a name. Then, click on the editor page and start typing. If you select some text, you will see a formatting toolbar which will allow you to apply a few different types of formatting (for example: bold, italics, underscore, strikethrough) as well as turn your snippet into a heading or a quote. There's more on formatting here.
You can also use the + icon on the left of the the page to add files and integration blocks (if enabled on our university's Aula account). More on the available options in this article.
Publish Materials
Select the hidden page.
Click on Publish now to publish immediately OR
Click on the clock symbol to schedule for later.
Click on the eye icon

next to the section in the sidebar to publish immediately OR

Locate the section in the sidebar and click on the three dots

symbol

Choose Schedule

from the drop-down to schedule for later.
Note
Pages and sections are hidden by default so students won't see you working on them.
Edit Materials
Select the page you want to edit.
Click on the pencil icon in the top right.
Edit the content as desired and confirm changes with Save.
Reorder Materials
Hold down a relevant page or section.
Drag it to its new position.
---
See Also