Regardless of where in the Aula platform you're composing your message, you will see the exact same multifunctional editor. It can be a Direct Message, a post in the Community Feed, or a Handin assignment – it all starts with a familiar blank page with a plus button to the left. In this article we will explore the formatting capabilities of the Aula editor.
In the Aula editor, you will have the options to create text with:
H1 Large heading
H2 Medium heading
H3 Small heading
bold
italics
underscore
strikethrough
hyperlinks
inline code
quotes
code blocks
Formatting toolbar
Most formatting options can be found in the formatting toolbar which is hidden by default. To reveal it, you'll need to select text using your mouse or a keyboard shortcut (i.e. cmd/ctrl + arrows). Once you hover over a formatting option, you will see its name and its corresponding keyboard shortcut if available.

Keyboard shortcuts
Keyboard power users might benefit from keyboard shortcuts standard to their Operating System.
Keyboard shortcut
Bold
cmd/ctrl +

b
Italics
cmd/ctrl +

i
Underline
cmd/ctrl +

u
Strikethrough
cmd/ctrl +

shift

+

x
Inline code
cmd/ctrl + e
Hyperlink
Select text and then press cmd/ctrl +

k
Adding inline emoji 🙆🏽‍♀️
To add inline emoji in Aula, you'll need to use your Operating System's native emoji picker. Head over to Using emoji in Aula for detailed instructions.
Attachments
If you click on the plus button to the left, you'll see a drop-down which will allow you to add:
Voice recordings

Rather than type your message, truly personalise it by sending a quick voice note.
After recording, you'll have the option to add a title to your voice note.

Files

Upload files from your local drive or from cloud services (Google Drive & OneDrive).
individual files must be under 1GB.

Code blocks

Code blocks support the following syntaxes: C, CSS, HTML, Javascript, Markup, MathML, RSS, SVG, XML
Code blocks can also be triggered by typing in ``` and following it by a space.

LaTeX

Compose in LaTeX (especially useful for equations)

Integrations

Available integrations will depend on the third party services used by your University.

Assignment

Add a direct link to an assignment for better visibility and easier access (for Educators only).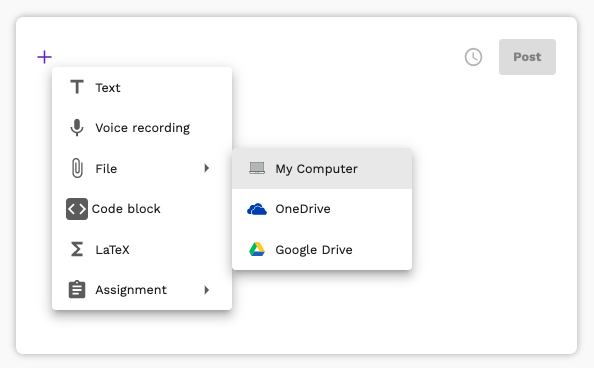 Posting
To immediately post your message in the Community Feed, you can click on the Post button in the bottom right. If you choose the clock symbol, you'll be able to schedule your post for later.
Posting with Enter
In the Feed, pressing Enter on your keyboard creates a new line and does not post your message. You need to click the Post button.
In Direct and Group Messages, pressing Enter on your keyboard will immediately send your message. To create a new line in Messages, press Shift + Enter.
---
See Also