There are a few ways of communicating within an Aula space. It can be done by creating or commenting on a post in the Community Feed or by starting a conversation. This article details available options for starting and managing direct messages – also called conversations.
Create a Conversation
Click on New message at the top of the message panel to your right.
Type the name(s) of the participant(s) you want to start a conversation with.
If you're creating a new message with more than 1 user, type a name in the Conversation title

field.

Confirm with Next.
Write your message!
Note: If you don't remember a name of the person that you'd like to get in touch with, you can easily start individual Direct Messages with all members of your module from the Participants tab.
Update Group Conversation Settings
Open the conversation of your choice and click on the ... icon in the top right.
Choose one of the available options:

View participants,
Add participants,
Rename conversation,
Leave conversation.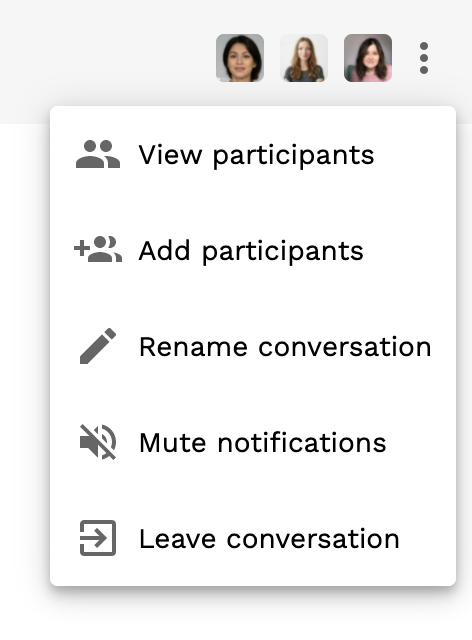 Leave a Conversation
If you can't find the option to leave a conversation which is not a 1:1 message, it's likely that you were added to it when an assignment Group was created by a lecturer. If they remove you from the Group, you'll be able to leave the conversation as well.
If you exit a conversation, it will still exist, but you will no longer be able to send or receive messages in it.
Formatting Options
You can read more about available formatting options in this article. The main difference between composing in messages and composing posts in the Community Feed is how a new line is created. In a conversation, you'll have to press shift + enter from your keyboard to create a new line. Enter will immediately send your message.
Hide the Messages Panel
If you'd like to hide the messages panel, simply click on the three dots symbol in the bottom right and choose Hide messages panel. This way the panel will be replaced with a small tab in the bottom right of your screen, and an arrow button will allow you to reveal it again when needed.
Delete Messages
It's currently not possible to delete messages sent in conversations. You can however edit a message by hovering over it and clicking on the pencil icon on the right-hand side. At the moment, messages cannot be edited from the mobile app.
---
See Also